Does non-participation in preschool affect children's reading achievement? International evidence from propensity score analyses
Large-scale Assessments in Education
An IEA-ETS Research Institute Journal
2016
4:2
Received: 9 January 2016
Accepted: 20 January 2016
Published: 3 February 2016
Abstract
While expectations are high for early childhood education to support students' reading literacy, research findings are inconclusive. The purpose of the study is to estimate the effect of preschool non-participation on reading literacy at the end of primary school. That is, what is the average achievement of children who did not attend preschool compared to what it would have been if they had attended preschool? Using PIRLS 2011 data, we employ propensity score matching to approximate a randomized experiment on a large-scale basis to estimate this effect for nine countries. We find that children who did not attend preschool come from disadvantaged backgrounds in all countries. However, with the exception of two countries, our study shows that their reading achievement at the end of primary school is not statistically significantly lower than the performance of matched children from similar backgrounds who attended preschool. Keeping in mind some methodological limitations, we discuss the findings of our study from a policy perspective.
Keywords
Preschool participationDisadvantaged childrenPIRLSPropensity score matchingReading achievement
Background
International large-scale assessments (ILSAs) provide representative information about a population's knowledge, skills, or behaviors in certain domains and compare them across countries. In education, such surveys were first conducted in the 1960s and have since then expanded in terms of investigated domains, included countries, and observed populations. However, primary and secondary school students' competencies in core subjects are still the central fields of investigation (Kirsch et al. 2013; Strietholt et al. 2014). ILSAs in early childhood education1 are scarcer and attract fewer countries to participate. One of the first cross-national studies in early childhood education was the longitudinal Preprimary Project (PPP) (1986–2006), which was conducted by the International Association for the Evaluation of Educational Achievement (IEA) and related preschool experiences at age four to children's language and cognitive development in school (age seven; Montie 2011). Only seven countries participated in all three study phases.
While young children's competencies have so far been understudied from an international comparative perspective, early childhood education itself is a recurring topic in the discussion of ILSA results, namely in attempts to explain differences in school outcomes. As ILSAs like the Programme for International Student Assessment (PISA) or the Progress in Reading Literacy Study (PIRLS) reveal that some students lack relevant basic skills and that many of them did not attend preschool, expectations are high that early childhood education is a promising approach to support students' literacy. For example, PIRLS 2011 shows a positive relation between preschool attendance and reading achievement at the end of primary school. Based on this finding, Mullis et al. (2012) emphasize the importance of early childhood education for students' later success in school and claim that "an early start [is] crucial in shaping children's reading literacy" (p. 10). A recent report draws similar conclusions based on PISA data (Schleicher 2014). Against this background, early childhood education is often adduced as a policy lever for improving students' future school competencies (e.g. UNESCO 2006).
One is naturally skeptical about inferences based on correlations within cross-sectional data. The difference in achievement scores between children who attended and those who did not attend preschool may not be interpreted in causal terms because of confounding variables that potentially bias the results. The PISA 2012 data, for example, illustrate that the strong relationship between preschool attendance and school performance in mathematics is considerably reduced in nearly all countries when accounting for socio-economic status (OECD 2013). Such selection mechanisms are a well-documented phenomenon. Research on preschool participation shows that disadvantaged children often do not enter preschool programs at all, participate to a lesser extent, or experience a lower quality than their more privileged peers (e.g. Hynes and Habasevich-Brooks 2008; Pianta et al. 2009).
It is the purpose of the current study to make use of the advantages of ILSA data (i.e. especially its representativity and cross-country comparativeness) in order to investigate the effect of preschool non-participation on grade-four-students' reading achievement using the PIRLS 2011 data. More precisely, we want to answer the following policy question: What effects might preschool attendance have had on the reading competencies of children who did not participate in early childhood education? The risk of bias due to selection mechanisms is dealt with by propensity score matching (PSM), which can be interpreted as a simulation of an experiment by conditioning on observed influencing factors.
Theoretical framework
Researchers from various disciplines argue that early childhood education is promising in supporting students' literacy acquisition (e.g. Knudsen et al. 2006). Ecological theories of human development provide a framework to model the factors that potentially influence a child's development. According to Bronfenbrenner (1979, 1990), human development is the result of an interplay between individuals' dispositions and the context in which they grow up. He describes this developmental environment as a system of nested, interdependent, dynamic structures that range from proximal micro- to the distal macro-levels. Structures at rather distal levels—such as cultural values and societal structures as well as the parents' work life—do not have a direct impact on children's development but are linked to the more proximal environments and thereby exert their influence indirectly. The main effects emanate from the immediate settings. Efforts to support children's literacy should address these early proximal contexts. In this respect, families and early childhood education generally provide the two most important primary learning environments for young children before school.
However, these two contexts are not independent from each other. Family background characteristics and preschool participation correlate, and children form disadvantaged families participate to a lesser extent in early childhood education. An extension of ecological theories of human development can be used to explain these selection processes. According to the Process-Person-Context-Time model, processes vary as a function of persons' characteristics, environmental contexts, and time periods in which they take place (Bronfenbrenner and Morris 2006). Early and Burchinal (2001) applied this model to the context of preschool participation and showed that parental preferences for certain care characteristics (person) and their subsequent choices for or against early childhood education (process) are influenced by their circumstances of life (context). The authors found that higher income is associated with forms of non-parental care including preschools and childcare provided by relatives other than parents while ethnicity is more related to the use of the latter. There is further empirical evidence that shows that parents with less education and a lower occupational status also choose care by a relative over early childhood education as they are more concerned with practical issues such as costs and convenience. On the contrary, highly educated parents are more likely than other parents to send their children to preschools (Grogan 2012; Kim and Fram 2009).
Although we have witnessed an expansion of early childhood education prior to primary school worldwide (UNESCO 2006), research results on the long-term effects of early childhood education programs are somewhat ambiguous (Duncan and Magnusson 2013). One reason for this is that there are different types of preschool programs that are differently influenced by the correlation between family background and preschool participation. A discussion of research on the effectiveness of these programs is therefore linked to respective target groups and the extent to which disadvantaged children are addressed. While some effective small-scale programs target at-risk children, the results of those interventions cannot be generalized to other programs or countries for two reasons. Firstly, they do not entail a random sample of disadvantaged children. Secondly, they are not representative of other targeted programs and less so for universal and voluntary early childhood education systems.
Previous research on the effects of early childhood education on reading literacy at the end of primary school
Literature reviews and meta-analyses that deal with the effects of early childhood education on a student's academic achievement emphasize substantial variation in the effect sizes between the individual studies, which is often associated with the investigated programs and the target-groups they address (Barnett 2011; Burger 2010; Camilli et al. 2010; Chambers et al. 2010; Duncan and Magnusson 2013; Pianta et al. 2009).
Some influential studies on the longer-term effects of targeted preschool programs on children's future academic success started about 50 years ago. Characteristic for these approaches to early childhood education—like the High/Scope Perry Preschool Project (Schweinhart et al. 2005) or the Abecedarian Program (Campbell and Ramey 1994)—is that they focused on a small sample of only about one hundred at-risk children and were based on intense, high quality curricula that included elements of parental support. Research on these interventions employed randomized-controlled trials and provides compelling evidence for the lasting effects such programs can have on a variety of outcomes observed at school age, including reading achievement. However, due to the program's high-quality, constrained regional or, rather, local context, limited and specific target group, and historical and political context the research result have a limited external validity, and it "is difficult to extract policy lessons from these two initiatives for early childhood education programs that states or the federal government might offer today" (Duncan and Magnusson 2013, p. 117).
Current large-scale targeted programs that address disadvantaged children are not able to replicate the results of these small-scale research programs (Barnett 2011). The Head Start impact study, for example, found that children entering Head Start programs at age four tend to show somewhat higher basic reading skills, but the effect was not statistically significant. For younger children (three-year-olds) it was not visible at all (Puma et al. 2012). Similarly, research on Early Head Start (EHS) for children aged two and three did not find any clear impacts on child outcomes when the children were about 10 years old, at least not for the overall sample. Regarding reading competencies, effects could only be identified for children with less pronounced risk profiles (Vogel et al. 2010). Given the results of EHS, one might assume that programs that do not target disadvantaged children but offer universal access for all children at a certain age are also rather ineffective for at-risk children. However, the Effective Provision of Pre-school Education Project (EPPE; 1997–2013)—a seminal European study of universal and voluntary preschool—for example, showed that preschool participation is related to a significant longer-term impact especially for the most disadvantaged children but emphasizes the role that the quality of early education settings within universal preschool systems plays in order to realize positive effects (Sylva et al. 2008).
Research question
The above review of the research on the effects of participating in early childhood education on future reading achievement at the end of primary school reveals inconclusive results. What is needed, then, are representative and international comparative studies with a high degree of generalizability. ILSA provide a valuable data source as they encompass representative samples from multiple countries. Findings from such studies may not only be generalized within countries but also compared across countries as they use the same methods of data collection and measures. ILSAs, however, are typically observational in nature and due to selection mechanisms in preschool participation it is not valid to draw conclusions about the influence of preschool attendance on reading achievement at the end of primary school on the basis of simple correlations. Thus, the purpose of the current study is to investigate the effect that preschool participation might have on non-participating grade-four-students' reading achievement using the PIRLS 2011 data by employing propensity score matching. Before we elaborate on the setup of the study, we briefly outline some basic principles of causal effects and propensity score methods.
Propensity score methods for causal inferences
Applying propensity score matching to PIRLS data
Results
Student characteristics
Regarding student characteristics, there were large pre-match imbalances in all countries. The size of these differences varies internationally, and a few covariates are balanced prior to the matching. But in general children who did not attend preschool grew up in home environments where they received less support for learning to read than children who attended preschool for three or more years. Figure
1
illustrates the standardized bias prior to (dots) and after (crosses) the matching for all countries with negative values indicating disadvantages for the children who did not attend preschool. For each covariate, the standardized bias is the mean difference between the treatment and the control group divided by the standard deviation in the treatment group. The treatment group was used to standardize the mean differences because it is composed of the same students prior and after the matching, while the composition of the control group changes. In Sweden, for example, parents of children who did not attend preschool report more than one standard deviation fewer books at home than parents of children who attended preschool for at least 3 years before the matching. After matching, standardized mean differences for all other covariates were below 0.25 for Sweden and the other countries (i.e., within the broken lines), indicating negligible post-match bias in most countries. The only exception is Slovakia where differences are still well above this threshold for the matched sample indicating non-negligible post-match bias. In this case the matching was not successful because children who did not attend preschool form an extremely disadvantaged group in Slovakia and there were no similarly disadvantaged children who did attend preschool. The comparisons of the variances of the propensity scores and ratio of the variances for the residuals of the covariates after adjusting for the propensity scores provide further support for the comparability of the treatment and the matched control group in all countries but Slovakia. The variance ratios for the propensity score and the residuals fall into the interval from 0.5 to 2 in all countries except for Slovakia.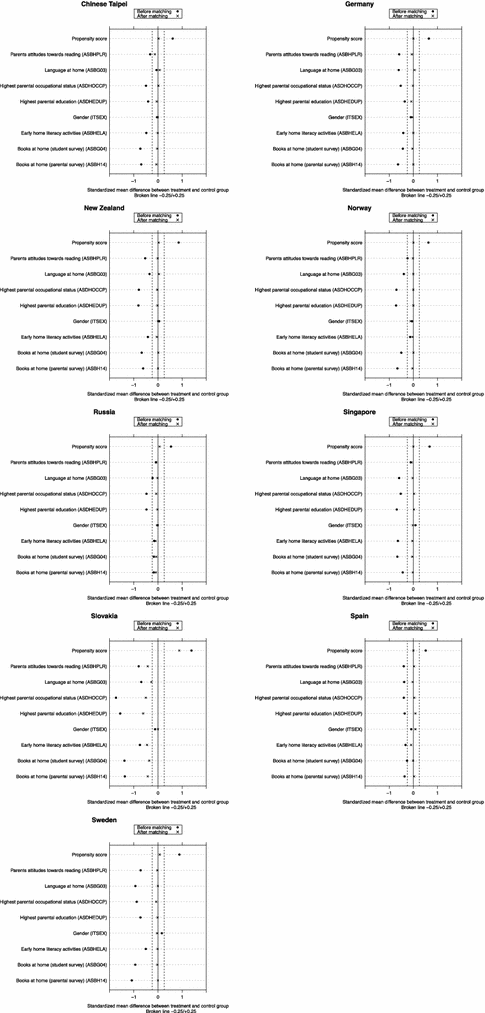 Discussion and conclusion
Our study provides only limited empirical evidence for the hypothesis that preschool attendance of children who did not participate does affect their reading achievement at the end of primary school as measured by the PIRLS 2011 data. In all countries preschool non-attendance is particularly high among children from disadvantaged backgrounds. To estimate the causal effect of preschool non-attendance on later reading achievement, we successively matched children who did and did not attend preschool in all countries but Slovakia. In six out of eight countries preschool participation is not statistically significantly associated with later student achievement. This finding is in line with some of the early childhood education effectiveness research that found effects for less disadvantaged children only (Vogel et al. 2010). As program quality was identified as a crucial requirement for realizing effects, a possible interpretation of our results is that the preschool systems established in those six countries are not designed in a beneficial way for disadvantaged children (see also Duncan and Magnusson 2013). Therefore, it might be interesting to take a closer look at Singapore and Sweden's approach as they are the only countries where preschool attendance positively impacts disadvantaged children's reading scores. However, the results for these two countries must be interpreted with caution because they are sensitive to unobserved covariates, particularly for Sweden.
The results of our study should also be interpreted in light of its limitations. Propensity score methods can be used to approximate a randomized experiment using observational data from international studies. However, a key assumption of this approach is that of strongly ignorable treatment assignment (Rosenbaum and Rubin 1983). This means that conditional on the observed covariates the treatment assignment was independent of unobserved covariates that are correlated with the outcome. Although PIRLS provides a variety of background data about students and their families, the data may not provide perfect measures of family background. The reliability of the information about early home literacy activities, for example, is limited because it was collected several years later at the end of primary school. Furthermore, the available measures may not capture all relevant facets of children's backgrounds. Matching adjusts for observed confounders but there may still be bias due to unobserved covariates. Although it is impossible to precisely foresee how such unobserved covariates may affect our estimates with the data at hand, it seems worth considering potential confounders. If children who did not attend preschool would also be disadvantaged on unobserved predictors of student achievement, we would overestimate the group differences that are already non-significant in all but two countries. Although our analyses provide more robust evidence than simple correlations, the lack of randomization limits our ability to make definite statements about causal effects.
In our study we estimated the effect of not attending preschool for children who actually did not attend preschool (PATT). These children come from disadvantaged family backgrounds, and our findings should by no means be generalized to all children. One should also bear in mind that ineffectiveness regarding reading achievement in grade four does not mean that there might not be effects earlier or later on in children's school career (see the discussion on fading-out effects in Barnett 2011; Duncan and Magnusson 2013). Additionally, early childhood education might affect other outcomes than basic achievement and cognitive test scores.
Nonetheless, our findings are relevant for policy makers as they provide information on the effect of preschool attendance on later school achievement for disadvantaged children. Our study suggests that their low performance is not due to not attending preschool. From a policy perspective, this finding calls for alternative interventions—or a different approach to early childhood education—to support these children.
Footnotes
1
Throughout the paper, we refer to early childhood education as defined by the International Standard Classification of Education (ISCED) Level 0. Here, early childhood education targets children below the age of entry into primary school. The respective programs are schoolbased or otherwise institutionalized and characterized by organized and purposeful learning activities outside of the family with an intentional education component. A minimum intensity and duration of at least two hours per day and 100 days a year is required (UNESCO 2012). The term preschool is used synonymously.
2
The item names refer to the names in the original data sets.
3
The questionnaires along with further information on the construction on the scales can be downloaded from the project website (http://timss.bc.edu/pirls2011/).
Declarations
Authors' information
Dr. Rolf Strietholt holds post doc positions at Technische Universität Dortmund and the University of Gothenburg. Prior to these appointments he has been affiliated to the Centre for Educational Measurement at the University of Oslo (CEMO), and the Social Science Research Center Berlin (WZB). He is interested in educational effectiveness research and international comparative education. His dissertation was awarded with the international IEA Bruce H. Choppin Memorial Award.
Dr. Nina Hogrebe is a post doc at the University of Münster. Prior to her appointment in Münster she has been affiliated to the Centre for Educational Measurement at the University of Oslo (CEMO), and the Institute of Education (IOE) in London. She is interested in early childhood education and educational governance. Her research focuses early education providers, segregation, and funding systems.
Open AccessThis article is distributed under the terms of the Creative Commons Attribution 4.0 International License (http://creativecommons.org/licenses/by/4.0/), which permits unrestricted use, distribution, and reproduction in any medium, provided you give appropriate credit to the original author(s) and the source, provide a link to the Creative Commons license, and indicate if changes were made.
Authors' Affiliations
(1)
Department of Education, University of Münster, Münster, Germany
(2)
Institute for School Development Research, Technische Universität Dortmund, Dortmund, Germany
(3)
Centre for Educational Measurement, University of Oslo, Oslo, Norway
(4)
Department of Education and Special Education, University of Gothenburg, Gothenburg, Sweden
Copyright
© Hogrebe and Strietholt. 2016